Shavuot is almost upon us, and while, for many Jews, the highlight of this holiday is a dairy extravaganza of cheese blintzes, lasagna, cheesecake, and ice cream, the true soul of the day is animated by two themes, one earthly and one heavenly: the harvest and the Torah.
From the earth: Shavuot and the Harvest
The Torah describes Shavuot as an agricultural festival celebrating the wheat harvest, and its celebration in the ancient Temple included an offering of loaves of bread.
Many JFN members have brought Jewish farming into their philanthropic work, and many more are represented in the broader field sometimes called JOFEE: Jewish Outdoor, Food, and Environmental Education. Among them are the Jim Joseph Foundation, Natan, Repair the World, The Morningstar Foundation, and more.
But perhaps no JFN member has made Jewish farming more of a core part of their operations than the Leichtag Foundation.
Member Spotlight: Leichtag Foundation & Coastal Roots Farm
JFN members who attended our 2016 conference in San Diego may remember the gorgeous Leichtag Commons, where the opening night party was held.
Leichtag Foundation purchased Leichtag Commons, a 67.5 acre agricultural property, to be a physical platform and demonstration ground to help advance excellence and innovation in the Foundation's four strategic focus areas which span building vibrant Jewish life in their region, alleviating poverty-particularly issues of food access, strengthening connections between San Diego and Israel, and renewing Jerusalem. The Commons is a nexus where nonprofits and social enterprises alike test and deliver cutting-edge products, take advantage of a range of professional development and capacity building services and pursue creative, pragmatic collaborations.
Programs and educational activities at the Commons, which include the independent nonprofit Coastal Roots Farm and The Hive coworking space, are inspired by Jewish traditions that connect people to community, food, the land, and social justice:
Ba'al Taschit: Ethical consumption
Shmittah: Honoring natural cycles of the earth
Peah: Lining the corners of one's field with food for the stranger and poor
Kayamut: Ecological sustainability
Ma'aser: Reserving at least one-tenth of one's agricultural produce for the poor
K'vod Briut: The dignity of all creations
Hachnasat Orchim: Welcoming guests
Haganat Ovdim: Fair treatment of those who work the fields
Tsa'ar Ba'alei Chaim: Kind, humane treatment of animals
Tikkun Olam: Healing the world


Coastal Roots Farm was created as a way to meet North San Diego County Jews and those who journey with them where they are in their interests in sustainability and social justice and to add relevant layers of meaning. The Farm is located in a region with a significant percentage of economically vulnerable households who lack regular access to fresh, healthy food.
The Hive at Leichtag Commons is a coworking space and professional development center which also hosts arts and cultural programs that provide Jewish education and dynamic ways to experience Jewish holidays. The Hive coworking members are Jewish, agricultural, and/or food system nonprofits and social enterprises. The Hive's Shavuot programs this year include a harvest-inspired dinner celebrating meals in Jewish tradition while learning from Jewish texts about the traditional festival of first fruits.
Leichtag's work, deeply rooted in tradition and local involvement, exemplifies the agricultural and nourishing spirit of Shavuot—connecting people to the land, to each other, and to methods (old and new) for ensuring that those most in need can reap a bountiful harvest alongside everyone else.
From heaven down to earth: Shavuot and Torah
While the written Torah only describes Shavuot as an agricultural festival and pilgrimage, the rabbinic sages taught that Shavuot was also the day on which the Jewish people received the Torah on Mount Sinai. Festival prayers call Shavuot "the season of the giving of our Torah". Some Jews stay up all night on Shavuot learning Torah—a practice that embodies both a passion for Torah itself and a desire to make amends for the Jewish people's oversleeping (according to rabbinic lore) on the original morning of Shavuot—and the morning Torah reading that follows this long night of learning includes the Decalogue (Ten Commandments) in an echo of that original revelation.
We could fill a blog post (one too long to read) with JFN members whose funding empowers engagement with Torah. The Maimonides Fund, The AVI CHAI Foundation, and many more individuals and organizations are making Torah accessible in new ways and to new audiences. Here's a look at just a few:
Member Spotlight: Lippman Kanfer Foundation for Living Torah
Lippman Kanfer Foundation for Living Torah asks the question: How can Jewish wisdom be applied to help people live better lives and shape a better world?
The foundation answers that question through:
Grantmaking – By partnering with a range of organizations (e.g., Mayyim Hayyim, Amplifier, and Asylum Arts) Lippman Kanfer Foundation for Living Torah learns which types of Jewish wisdom are in fact helping people flourish and thrive. Drawing on that learning and its expertise in organizational development, the foundation disseminates principles of effective programmatic and organizational practice.


Convenings and Network Building – Lippman Kanfer Foundation for Living Torah brings together influencers—both academics and practitioners—to explore ways in which Jewish wisdom can be applied to help improve people's lives and the world in which they live. These convenings help connect, support, and build fields of organizations, funders, and thought leaders committed to distinct areas of Jewish wisdom.


Thought Partnership – The foundation believes that powerful ideas can change the world. It therefore invests time and resources in developing frameworks for understanding Jewish wisdom that can help navigate the complexities of life.


Taken together, these three approaches yield both very old and incredibly innovative answers to how Jewish wisdom can be applied to help people live better lives and shape a better world. The foundation's commitment to the way in which Jewish wisdom draws from its roots in order to grow and change ensures that Torah—the cumulative and accumulating wellspring of Jewish wisdom and sensibilities—is indeed living.
Member Spotlight: The William Davidson Foundation
From the foundation website:
We are a family foundation first and foremost. Our charge is to extend the arc of charitable giving established by our founder, William Davidson, in perpetuity.

Mr. Davidson specifically chose not to give us a mission statement. Instead, he directed us to follow his lead and interpret his wishes accordingly.

We have many pointers: Jewish values set his moral compass. Humility and compassion were intrinsic to his character. Competition, exceedingly high standards and pragmatic risk were essential elements of his career success. And joy: He saw the best in people and in life.

The course we chart today, through our four focus areas — Jewish Life, Economic Vitality, Cultural and Civic Vitality, and Education — flow from his philanthropic priorities and our interpretation of how these priorities are evolving in society today.
Among the foundation's many remarkable projects is significant support for Sefaria, "a free living library of Jewish texts and their interconnections, in Hebrew and in translation."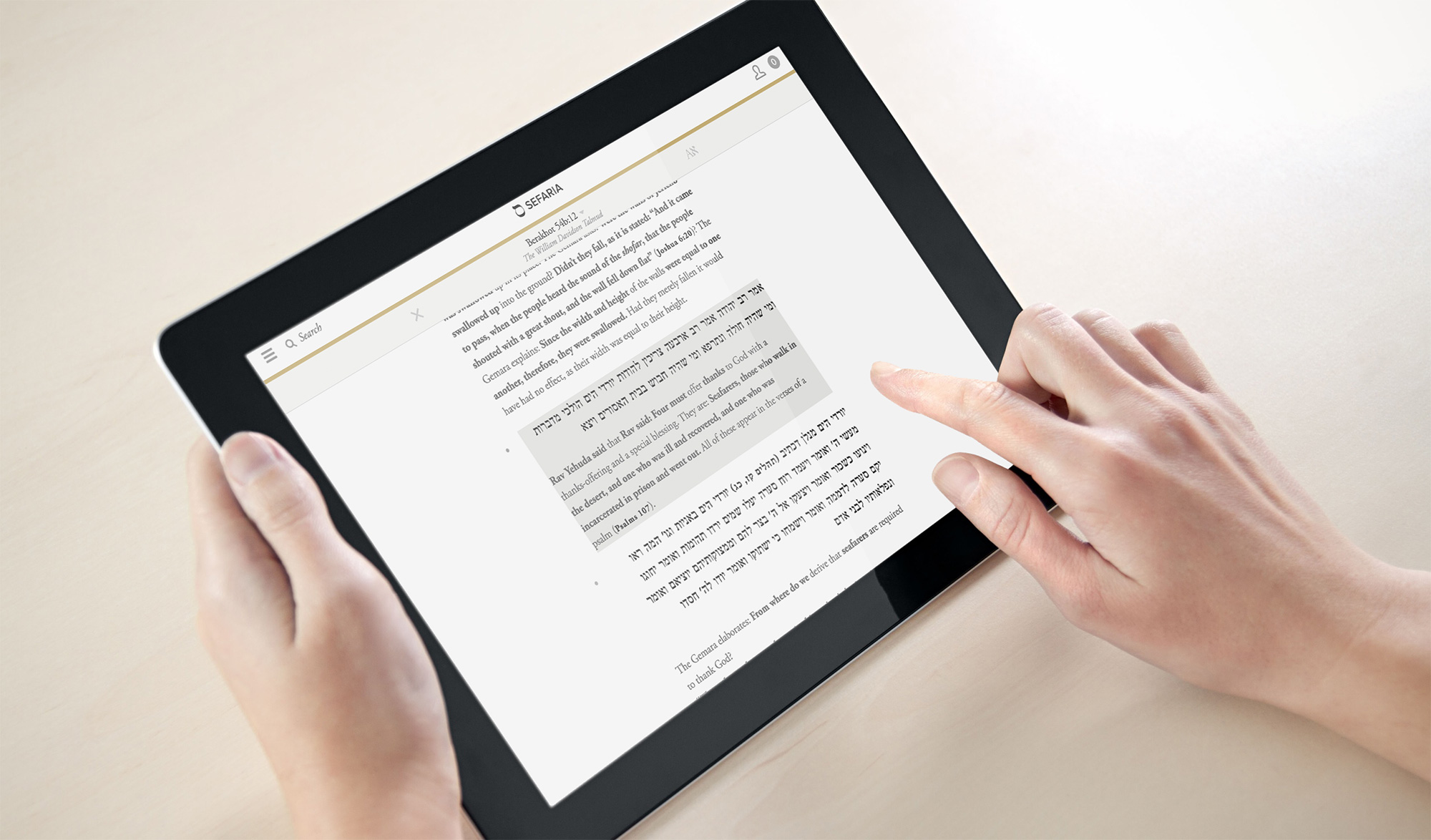 In addition to past general operating support, the foundation empowered a major achievement for Sefaria, and for Jewish literacy worldwide:
With full support from the William Davidson Foundation, Sefaria acquired Koren Publisher's Modern Hebrew and English translations of the Babylonian Talmud and is in the process of making each tractate available in their library. The translations, consisting of 37 tractates spanning 2,700 pages, are the life's work of Rabbi Adin Even-Israel Steinsaltz. The Babylonian Talmud is one of the great works of world literature, but until now only a small number of people had access to it. A Creative Commons license makes these translations free for use and re-use, ensuring the Talmud is accessible to everyone, forever.

To commemorate William Davidson's life and extend his spirit of generosity, Sefaria has named the Hebrew and English translations The William Davidson Talmud.

The William Davidson Foundation awarded Sefaria a three-year grant in 2015 for $4.5 million.
---
Chag sameach!
Are you a JFN member with a story to tell? To contribute to the JFN blog, or inquire about a member spotlight, contact Seth Chalmer.
Share