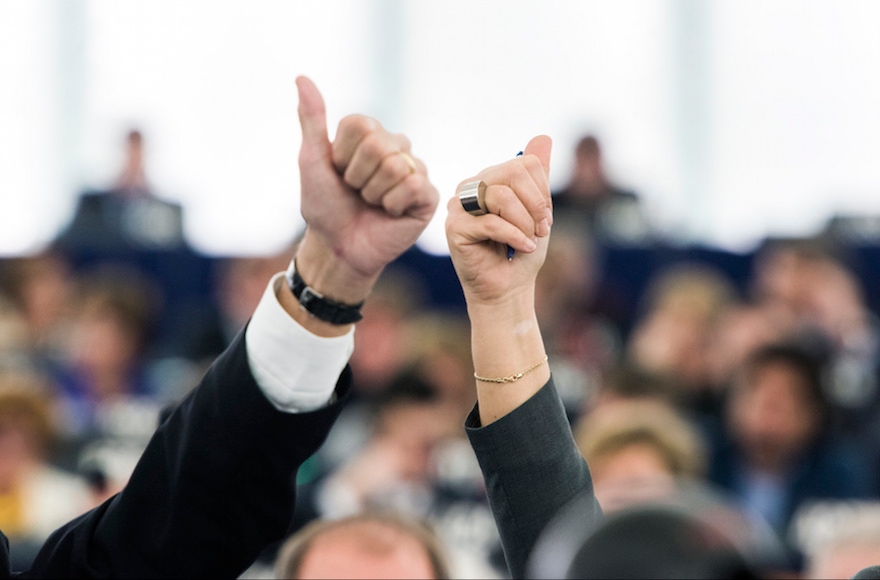 Lisa Eisen, JTA
Ensure accountability. Exhibit leadership. Refresh policies and procedures. Train staff and boards. Facilitate reporting. Equal opportunity.
Shifra Bronznick, Barbara Dobkin and Rabbi Joanna Samuels, eJewish Philanthropy
It turns out that having sympathetic leaders is insufficient.
The JTFN Youth Ambassador Council, JTFN Blog
The JTFN Youth Ambassador Council is a group of Jewish teen philanthropists who are passionate about making the world a better place. They meet virtually throughout the year to dicuss their programs and what it's like to be a Jewish teen in today's philanthropic society.

They have bestowed their wisdom on how you too can become the best philanthropist you can be, and how to navigate through difficult situations in the board room in 2018.
Dorian O. Burton & Brian C.B. Barnes, SSIR
With partial investment strategies, we can create only outliers of success. These success stories, sprinkled throughout our annual reports and materials, arise from instances where a momentary low tide enables a small few to maneuver a life raft through a stormy sea to shore. But if we don't comprehensively change the network of systems producing the storm of inequality, eventually the sea will swell and consume the escape route for all those behind. Instead, we must co-create a new normal for systems-level change and equity, and the social sector—guided by the community—we must make paid-in-full investments.
Megan O'Neil, The Chronicle of Philanthropy
Among the barriers that ultra-high-net-worth individuals face in initiating or scaling up effective giving are extraordinary demands on their time, anxiety about making mistakes, and doubts their money can make a difference, especially when compared with the giving of billionaires like Bill Gates and Mark Zuckerberg.
Howard Gleckman, Tax Policy Center
The Tax Cuts and Jobs Act (TCJA) will shrink the number of households claiming an itemized deduction for their gifts to non-profits from about 37 million to about 16 million in 2018, according to new Tax Policy Center estimates. At the same time, the new law will reduce the federal income tax subsidy for charitable giving by one-third, from about $63 billion to roughly $42 billion.

Overall, the TCJA will reduce the marginal tax benefit of giving to charity by more than one-quarter in 2018, raising the after-tax cost of donating by about 7 percent.
eJewish Philanthropy
The recipient organizations assist refugees globally and include the International Rescue Committee (IRC), led by its president David Miliband, as well as the Multifaith Alliance for Syrian Refugees (MFA), HIAS (founded as the Hebrew Immigrant Aid Society), Help Refugees, and Hillel International.
Steven Windmueller, eJewish Philanthropy
For more than one hundred years, the American Jewish community was managing its war against anti-Semitism employing a set of accepted community relations tactics. In this article, we are examining ten of the core assumptions that defined the community's understanding of anti-Semitic behavior with the intent on pushing back against these now out of date value propositions.
The National Center for Arts Research (NCAR) at Southern Methodist University
The National Center for Arts Research (NCAR) at Southern Methodist University today released a new report detailing financial health of arts organizations in the U.S. The report examines organizational bottom lines using data collected from over 4,800 organizations between 2013 and 2016. Overall, the report shows that it has become increasingly difficult for arts and cultural organizations to break even, a trend that is particularly alarming given the current period of economic growth in the U.S.
Lauren A. Silverstein, eJewish Philanthropy
We have an opportunity as funders to elevate the field. How many of us are measuring the same programs? Are some measures better than others? How can we pool evaluation funds where we are duplicating work? How can we streamline our work so that our agencies see evaluation as an opportunity to measure what matters and not as a burden? (How many forms are agencies filling out for the same program, that all ask different questions, and are due at different times?)
---
Shabbat shalom and have a great weekend.
Share